Suggested Prayers
United as one family in Christ – especially during this Lenten season – we pray for those who are sick, for health care workers, and for peace in times of uncertainty:
Prayer to St. Michael
St. Michael the Archangel, defend us in battle, be our protection against the wickedness and snares of the devil. May God rebuke him we humbly pray; and do thou, O Prince of the Heavenly host, by the power of God, cast into hell Satan and all the evil spirits who prowl about the world seeking the ruin of souls. Amen.
Prayer to St. Roch and St. Rosalie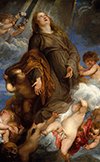 "Merciful Father, through the intercession of Blessed Mary, St. Roch, and St. Rosalie, deliver us from the current attack and subsequent suffering we are enduring from the coronavirus. May we seek to assist those in need in body or spirit and ourselves turn away from sin and trust in You. We ask this in the name of the Divine Physician, Jesus Christ Our Lord."
"St. Roch," by Francesco Ribalta (c. 1625) "St. Rosalie Interceding for the Plague-stricken of Palermo," Anthony van Dyck (c. 1624)