Content
May all the Mom's have a blessed Mother's Day! ¡Feliz día de la madre!

Suggested Prayers
United as one family in Christ – especially during this Lenten season – we pray for those who are sick, for health care workers, and for peace in times of uncertainty:
Prayer to St. Michael
St. Michael the Archangel, defend us in battle, be our protection against the wickedness and snares of the devil. May God rebuke him we humbly pray; and do thou, O Prince of the Heavenly host, by the power of God, cast into hell Satan and all the evil spirits who prowl about the world seeking the ruin of souls. Amen.
Prayer to St. Roch and St. Rosalie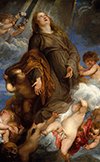 "Merciful Father, through the intercession of Blessed Mary, St. Roch, and St. Rosalie, deliver us from the current attack and subsequent suffering we are enduring from the coronavirus. May we seek to assist those in need in body or spirit and ourselves turn away from sin and trust in You. We ask this in the name of the Divine Physician, Jesus Christ Our Lord."
"St. Roch," by Francesco Ribalta (c. 1625) "St. Rosalie Interceding for the Plague-stricken of Palermo," Anthony van Dyck (c. 1624)
Everyone have a blessed Happy Thanksgiving!
Eucharistic Minister Schedule April 9, 2017
READER: Dr. Verrilli
EM1: Betty Jo
EM2: Gussie
EM3: Fred

EM3: Ken

EM5: Marco


Mardi Gras Gala
Saturday/sábado
25 February 2017
6:00 pm - 12 Midnight
For more information Download Flyer here: Mardi Gras 2017
Super

Bowl Party
Sunday February 5th at the Father Price Center.
Everyone Welcome, we will have soft drinks and pizza. So come around 5:30 PM for fellowship with our brothers and sisters and enjoy the game.
Doors open at 5:30PM
Sponsored by the Knights of Columbus
Prayer Request
Prayers are being requested for the Family of Henry Tsao. Henry Lost his Father Thursday evening.
_____________________________________________________
Prayers are being requested by Kathy and Chuck Pare for there Grand Daughter who is 17 months old and very sick.
Please everyone pray alone or with others for this little Child.
This child is Amelia. Also they have set up a go fund me page at the link below.
https://www.gofundme.com/mvc.php?route=search&term=We%20Love%20Amelia%20Pare%20Schwartz
Inclement Weather Policy
Immaculate Conception Catholic Church
The following will be put into effect each time there is an occurrence of inclement weather that makes traveling to and from church grounds hazardous: Weekend and weekday Masses will be celebrated as scheduled. They will not be cancelled. All church meetings, classes and events (including, but not limited to: Faith Formation, RCIA, Parish Council, and other scheduled programs and events) will be cancelled and the office will be closed for the duration of inclement weather. (A general rule: if Sampson County schools are closed due to inclement weather, then so are we!) All staff, paid and volunteer, are not required to travel to church grounds. Note** In the event of inclement weather, common sense is to prevail. All meetings will be canceled. The buildings will be closed with the exception of weekend and weekday Masses. The parish will not assume liability for those who disregard this policy. Even though Masses will not be canceled, in the event that travel to Mass is precarious the Faithful of this parish are dispensed from the obligation to attend Mass.
Examples of inclement weather include, but are not limited to:
Hurricanes
Snow and ice storms
Heavy rain
Hail
Etc.
---
Póliza de Clima Peligrosa
Iglesia Católica de Inmaculada Concepción
Lo siguiente será puesto en efecto cada vez que haya un clima peligroso y que al viajar de la iglesia o a la iglesia sea peligroso. Las misas de fin de semana y entre semana se celebrarón al mismo horario. No se cancelarán. Todas las reuniones, clases (incluyendo clases de catecismo, RICA, Concilio Pastoral y otros programas y eventos) serán cancelados y la oficina será cerrada durante el mal clima. (Una regla general: si las escuelas del condado de Sampson están cerradas por el mal clima, ¡nosotros también!) Todo personal, pagado y voluntario, no se requiere viajar a la iglesia. Nota** En caso de clima peligroso, use su sentido común. Todas las reuniones serán canceladas. El edifício se cerrara con la excepción de las misas de fin de semana y entre semana. La iglesia no será responsable de los que ignoran esta póliza. A pesar de que las misas no están canceladas, y en el evento de viajar a misa es peligroso, los feligreses de esta parroquia son dispensados de asistir a misa.
Ejemplos de clima peligroso:
Huracanes
Tormentas severas
Tormentas de nieve
Tormentas de granizo
Etc.
---
Inclement Weather Policy downloadable pdf file