Home
**************************
An Act of Spiritual Communion
I believe that You are present in the Most Holy Sacrament.
I love You above all things,
and I desire to receive You into my soul.
Since I cannot at this moment receive You sacramentally,
come at least spiritually into my heart.
I embrace You as if You were already there
and unite myself wholly to You.
Never permit me to be separated from You.
****************************
Redemptorist------------Mercy------------------Sisters
Latest Update
As things stand, we have returned to the church building for weekday and even Sunday liturgies (10:00 a.m. in English), observing the new guidelines issued by the Governor's Office to manage the coronavirus pandemic while opening businesses and community-related sites (including houses of worship). The interior of the church, thus, has been marked off to ensure we are in conformity with these guidelines. We have the capacity to receive 110 persons into our church under such guidelines. The Bishop has continued to dispense from the obligation that all Catholics would normally have of being present at Sunday liturgy, Those who choose to come are asked to kindly bring a mask for use in those times when we cannot strictly adhere to the "six-foot rule" that the CDC recommends as judicious spacing between persons.
En el momento presente hemos regresado al templo para celebrar conjuntamente las liturgias, tanto el Domingo como en los días de semana, observando a la vez las normas establecidas por el Gobierno para mantener el distanciamiento social requerido. Tenemos cupo en nuestra iglesia sólo para 110 personas según este patrón. Esto significa que al llenar la capacidad de los 110 espacios disponibles para la misa, tendríamos que cerrar el templo para que no entren más personas. Esta norma vale tanto para la misa de Sábado (a las 6:00 p.m., como de costumbre) como de Domingo (12:30 p.m.) Por ende, estamos pidiendo también que cada persona que acuda al templo a que traiga una mascarilla para cuando no podamos mantener la distancia necesaria entre personas para cumplir debidamente con la restricción impuesta. Hemos marcado los lugares en el templo donde las familias pueden ubicarse con la separación requerida por el gobierno. Les pedimos que sigan las instrucciones de los ujieres para que podamos celebrar la misa con tranquilidad y conforme con lo que nos pide la Oficina del Gobernador en este momento preciso de la pandémica. Gracias anticipadas por su cooperación.
Suggested Prayers
United as one family in Christ – especially during this Lenten season – we pray for those who are sick, for health care workers, and for peace in times of uncertainty:
Prayer to St. Michael
St. Michael the Archangel, defend us in battle, be our protection against the wickedness and snares of the devil. May God rebuke him we humbly pray; and do thou, O Prince of the Heavenly host, by the power of God, cast into hell Satan and all the evil spirits who prowl about the world seeking the ruin of souls. Amen.
Prayer to St. Roch and St. Rosalie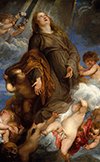 "Merciful Father, through the intercession of Blessed Mary, St. Roch, and St. Rosalie, deliver us from the current attack and subsequent suffering we are enduring from the coronavirus. May we seek to assist those in need in body or spirit and ourselves turn away from sin and trust in You. We ask this in the name of the Divine Physician, Jesus Christ Our Lord."
"St. Roch," by Francesco Ribalta (c. 1625) "St. Rosalie Interceding for the Plague-stricken of Palermo," Anthony van Dyck (c. 1624)
For online Masses click image below:
Para misas en línea en español, haga clic en la imagen a continuación:
Weekday Mass Schedule
Monday 8:00 AM
Tuesday No Mass
Wednesday 12:00PM (Noon during Lent)
Wednesday Español Mí­sa 7:00 PM
Thursday 8:00 AM
Friday 8:00 AM
Saturday Español Mí­sa 6:00 PM
KNIGHTS of COLUMBUS Meeting Council 11848
Cancelled Until Further Notice
The next monthly Meeting will be TBA in the Knights Room at Church. Park on Office side of Church and use entrance to Church by the Office.

KNIGHTS OF COLUMBUS ASSEMBLY 2490 MEETING

Cancelled Until Further Notice.
Sunday TBA at 2:30PM at Our Lady of Gaudalupe Church in the Knights room
at St. Marks Hall at 211 Irwin Dr. Newton Grove, NC 28366
March 29th has been cancelled.
The 31st of May 2020, will be the next 5th Sunday of the month. That means the Knights of Columbus do the Rosary prior to 10:00am Mass. As always we will be getting help from Rose Mary Hunter who as everyone knows is a member of the Columbiettes. Thank you so much Rose Mary! Rosary wiill begin at 9:30am